Chocolate, Cheese, & Beer
February 28, 2018 at6:00 pm

-

9:00 pm

$50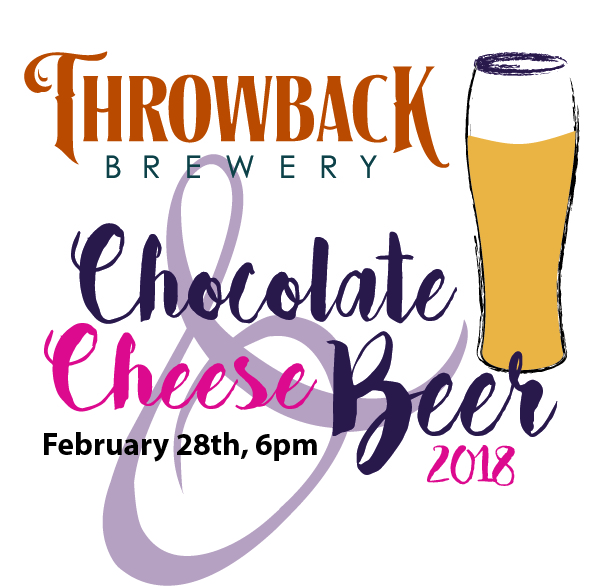 Every year during Portsmouth Beer week, we like to play with and push the culinary possibilities of pairing hand-crafted chocolate and thoughtfully selected cheeses from local New England and NY artisans with our farm-fresh beers.
This year marks the 7th offering of this event, and we continue to be inspired by all the magical ways we can pair this delicious trio! If you are like us, and love cheese, chocolate, and beer, be sure to grab your ticket today! (As a 'heads up', this event has sold out for the past 6 years in a row.)
Here is our working menu so far – we think it is four courses of deliciousness! Come back soon as we fine tune the menu and fill in the remaining beers!
Amuse Bouche:
Flying Goat pub cheese ball encrusted with Enna Chocolate's cocoa nibs. House mustard. Spent grain cracker.
Stay tuned for the beer pairing!
Cheese Slate:
– 6-year Sugarbush Cheese & Maple Farm (Woodstock, VT) Extra Sharp Cheddar
– Enna Chocolate – Peru Marañón
– House-made whipped hop honey
– Spring Brook Farm (Arlington, VT) Ashbrook cheese soufflé with Enna Chocolate's cocoa power & our vegetable ash.
Paired with: Imperial Pumpkin Porter
More Cheese, Please (& A Donut):
– Nettle Meadow Farm (Thurman, NY) Triple Crème Kunik
– House-made chocolate cruller with maple cream
– Fried cheese curds with muhammara.
Stay tuned for the beer pairing!
Finish:
– Enna Chocolate Vietnam bar
– Great Hill Blue Cheese (Marion, MA)
– House-made Vermont Creamery (Websterville, VT) goat cheese truffle
– Salted wort caramel
Stay tuned for the beer pairing!
As always, ticket price is inclusive of tax and gratuity. Makes a great Valentine's gift, too! And, yes, chocolate, cheese, and beer make for a most lovely dinner.