Celebrate the Granite State's beer industry during 2017's New Hampshire Craft Beer Week, which runs from March 31-April 8.
Craft breweries, home brewers, distributors, pubs, restaurants and bottle shops are hard at work creating a full schedule of events showcasing the many facets of this exciting industry.  Current list of events can be found on NH Craft Beer Week Events. Try something new every night of the week!

Show us your NH Craft Beer Week
fun with #NHCBW2017
---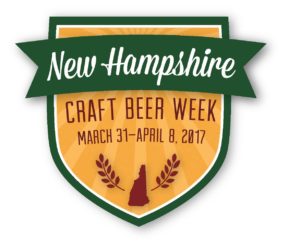 New Hampshire Craft Beer Week is a nine day celebration of New Hampshire's dynamic, delicious craft beer ecosystem. #NHCBW2017 is the perfect stage for you and your team to add something extra to what you normally do. Our goal is for each beer-centric business in New Hampshire to execute some kind of special event to help populate a calendar of engaging #NHBeer events. Let's put the spotlight on NH made Beer!
NHCBW is a collaborative effort of the Granite State Brewers Association and BREW NH, Press releases and media inquires can be emailed to

[email protected]

and/or 

[email protected]

.  Read more on the NHCBW 2017 Press Release.
Event Submission:
Create a Facebook Event on your Facebook page. Please mention NHCBW or NH Craft Beer Week in the event title. You MUST Tag NH Craft Beer Week, BrewNH and/or the Granite State Brewers Association in the Facebook event description.

 The organizers of NHCBW will copy YOUR Facebook Event to be on the NH Craft Beer Week Facebook event page https://www.facebook.com/pg/nhcraftbeerweek/events/ and to the website https://nhbeer.org/events/category/nhcbw/.

Need an idea, a contact or general help, feel free to reach out to

[email protected]

and/or

[email protected]

for assistance.

Don't forget to update the event listing if there are changes (to time, date, features, details).
Event Promotion:
Official hashtags for New Hampshire Craft Beer Week are #NHBeer & #NHCBW2017.

We encourage the use of our NHCBW logo on your printed materials. You can also download the NHCBW header logo, the GSBA logo or the BrewNH logo.

Create your own graphics and Facebook event pages and tag NH Craft Beer Week so that we can share widely.

When possible, we hope to have a representative from the GSBA or BrewNH to attend most events.  In some cases, a free admission may be requested.

Don't forget to post pictures during and/or after the event.  We want to see what a great time it was!
The Granite State Brewers Association is a membership-based, non-profit corporation that is formed pursuant to NH RSA Chapter 292 and IRC 501(c)(6) to protect, promote, represent, educate, and advocate on behalf of and to its members, customers, and allied parties of the brewing industry and carry out all activities related thereto.
BREW NH is a non-profit all-volunteer organization that promotes New Hampshire via the beer industry. We want to be your beer hub when you think about events, activities, advice and news about NH's vibrant beer industry.